Schleppe Brauerei – No.5 Porter
I would say we have a bit of a trend going on, but I would be lying. Recently I have been slowly making my way through some of the stash I brought back with me from my European travels. This is one of them. Schleppe Brauerei's No.5 Porter.
At 5.5% its not going to blow your socks off, and to be honest neither is the flavour. It is what I would consider a traditional porter. There is no complex, crazy flavour added into it.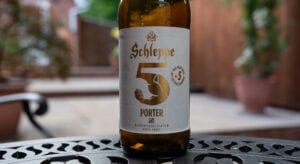 The colour is dark, and coffee esque. When poured it produces a very large, foamy head. Although when we poured it the head took up most of the glass.
The aroma was of coffee, malted biscuits and toffee. Flavour wise I found it lacking. It didn't have the depth of flavour I was hoping for, instead tasting like watered down, alcoholic coffee. However, you could argue that traditional style porters aren't suppose to be complex. After all, coffee tones are the main flavour of a porter backed up by some smokey notes and a hint of treacle.
The body was also disappointing for me, it was very thin and watery, and very highly carbonated. Even for a 5.5% beer it was thin.
I love German beer, especially the lagers and bock style ales. However, on this occasion, I was left disappointed. I hope the next porter I try tells a different story.