Foursquare Spiced Rum – Barbados Hits The UK
So to start, I apologise. I have a terrible tendency to try before I write, which is perhaps why I get so silly with my words sometimes. As you can see this is one of those bottles. Judging by the fact its half empty at the time of photographing it, you can tell I enjoyed it.
This version of Foursquare's rum is what they consider their 'entry' rum – if you can believe it! And being honest, if this is the entry Rum then I am really excited to try the other three squares.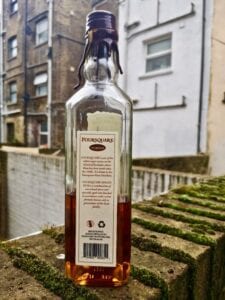 Style wise, like many of the spirits I enjoy, there is nothing fancy. It is pure, simple, and most importantly, traditional. For some reason I think rum is just one of those spirits that's perfect the traditional way – with minor tweaks.
Foursquare is pure and simple, heartfelt, soulful spiced rum. To have a great spiced rum I think the nose needs certain scents. Vanilla, cinnamon spice, and hints of caramel. Foursquare has all three, with subtle notes of nutmeg and peppermint.
Sounds like a winning combination, right? Well it is. When poured over ice this rum comes into its own. It's strong, refined and extremely smooth.
This is a drink that isn't to be missed. I would strongly recommend Foursquare to a rum beginner or just a lover of sugar-based liquors.
My only gripe is the price. I paid £32.95 for my bottle and although it was amazing it seems a little highly priced, but this could depend on where you buy it.
Overall A really good quality rum, full of flavour and perfect for a summers day.