Beershop Venezia – Where Great Friends Are Made
When I think of Italy I think of family and friendship. I think of a unique culture where you are treated like a member of the family – without being family. It's why Italy always has a special place in my heart. Coming back to Italy, for the first time, without my family – I had my reservations about how I would get on. After all, Italy is a very romantic place so being a solo traveller isn't ideal.
But All reservations were wiped from memory after meeting Dillberto, the co-owner of BeerShop Venizia. The island's only craft beer shop. But, even if it wasn't the only one, it would still be the best. You are treated not just as friend – but as family.
When I first stepped into the shop and showed Dillberto my business card his words were: "Well, we will talk about beer now, but first we share one." So we shared one. A beer by a brewery just outside of Venice – a LIPA called BIONOC. A super easy going, refreshing and zesty beer that was paired with the perfect introduction to a new friend.
The shop itself is small but perfectly formed. It can be found in a back street near the Rialto Bridge. Inside, the decoration is traditional, but simple, with a large fridge at the back of the shop next to the cash desk. On shelves above the fridge are the empty bottles of beer people have tried in the shop since opening. On the side walls are shelves made from beer barrels which hold the stock that doesn't need refridgerating. In the centre, is the tasting table. You can spend many an hour chatting with Dillberto and his business partner.
I bought a six pack of local beers and beers I can't get in the UK because of import restrictions from the US (Founders CBS). I also had a few more delicious brews with my new friends.
Dillberto is one of the few people who has got me to try sour beers and has succeeded in making me like them (sorry Kelly!)
Manto Blanco Berlinner Weisse, produced about an hour outside of Venice, is a super easy going, light, tart and refreshing sour that actually leaves your taste buds yearning for more. In addition to this delicious beer I had another couple including a brown ale, and some IPAs (my current favourite style).
Later in the week, I brought my new friend Alex with me to sample some more beers. Again, we received the same welcome from Dillberto  – sharing more that a couple beautiful beers together during our 3hr stay at the shop.
Many other people came, bought and left – all with smiles on their faces as they walked out. It's how Dillberto and his partner treat people that makes it special.While there we saw many people come in and out of the shop all who left with smiles on their face because of the way they were treated by Dillberto and his partner.
Alex and I bid adieu to Dillberto with one of the strongest beers in his shop. Founders CBS. This is a bourbon barrel-aged chocolate stout that leaves it's taste on your tongue for an hour after you've drunk it.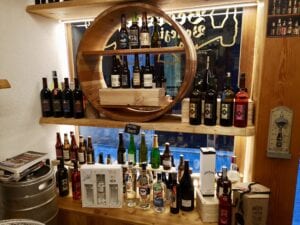 If you happen to be in Venice, and want to find somewhere that doesn't only do over 100 amazing local craft beers, but is somewhere where you will be treated like family please, please, please go and see Dillberto.
This is a shop that is all about its customers.
By the time you leave, you'll have to have to add your photo to the Wall of Fame, no matter where you are from. You can see all the Polaroids around the shop and, yes, mine is up there too!
I am extremely lucky to be doing what I am doing but, whenever I go, I meet people who are the people who passionate about craft beer and I have had the opportunity to share a beer and conversation with them.
Dillberto, I'll be back soon. Save some cold ones for me!