Mothership Brewing – Codebreaker, NEDIPA
For those of you who know me, you know I love NEIPA, New England India Pale Ales. I love the juicy thickness; intense hop flavour and the use of floral hops in them. I mean, it's just irresistible. To quench my appetite for such beers I decided to purchase this tasty can.
Codebreaker, a NEDIPA made by the lovely ladies at Mothership Brewing, is one of the few all female owned and operated breweries that resides in the UK. Founded in 2019, they have been producing award winning beer since, winning the "Raising the bar" award 2 months after opening their doors.
They have dedicated this particular beer to Joan Clarke, a cryptoanalyst who worked closely with Alan Turning and the Enigma code. It is part of their new "Extraordinary Women" series.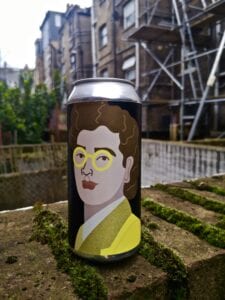 So the beer – is it really uncrackable?
Your nose is greeted to initial aromas of mango, papaya, pinot gris, and red berries, thanks in part to their use of the unique "Enigma" hop. A fresh variety from Australia that offers flavours and scents often seen in other alcohols. Flavour-wise is where Codebreaker really excels. It's complex, smooth and justifiably dank.
Your initial flavours are tropical fruits, notes of grape and pinot gris. As Mothership states on the can it's 'a veritable fruit salad' so it has some sharpness and tartness, with back notes of raspberries and red currents.
It's like an adult juice box in a can. There is very minimal bitterness and the beer is packed full of sweet, dank,  juicy notes.
The combination of a nice malty backbone with the hop choice has created a thick, smooth beer. Which is no surprise considering the ABV is 8.4%.
But, being honest, the enigma hops literally make this beer an enigma. Depending on when you hop the mash, what malts you have used and how long you brew the wurt, the enigma hop will take different shapes. So its an extremely complex hop to pinpoint.
If this is the kind of brew Mothership are producing after only two years in the industry, then I'm excited to see what they produce in the future.