BayBrooke Helles Lager – 4.2%
So it's coming for summer. That can only mean one thing. Lager season is here. Now, I would normally be the first person to say I would much prefer a Kolsch or Czech Pilsner. As my girlfriend says I'm a bit of a beer snob…
Sure sure! Ok well I might be a bit but, helles, I know what I like (pun intended).
Baybrooke isn't a brewery I've heard of before. If I am being honest, I picked the beer up based on  the bottle rather than what was inside. It's a unique and plain sight in a sea of bright can art that now dominates the craft beer scene. Sometimes 'boring' is better right?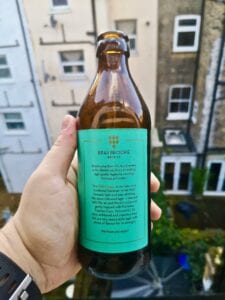 In this case it is. Their Helles is brewed using a combination of Munich and pilsner malts paired to that quintessential Germany lager hop. Hallertau. This flavourful combination culminates into a fresh, citrusy, malty brew that is perfect for a summers day.
When served cold you are greeted to notes and malted barley, orange peel and hay. Mixed in with a slightly darker, light caramel colour an airy and nicely carbonated body. The above flavours are present throughout the beer, its pure simple and very refreshing. Theres no bitterness, no over-carbonation.
Its just thirst quenching. I know it sounds a bit boring but lagers are so unbelievably complex. They take weeks to ferment properly, and under fermented lager is just pants. If I'm being honest the showstopper is the addition of Munich malts, these malts are rich, used for their caramel colour and strong malty tasting notes. It just takes this beer to another level.
A level I personally love. I will be buying this beer again. So too summarise, simple sometimes is always best!