Garage Beer Barcelona
Garage Brewing is a very unique bar and brewery located in Barcelona. They were one of the original breweries that started the craft beer craze in Spain and have been pushing the envelope ever since. Their taproom is located about a 5 minute walk away from Pl. De Catalunya, the main square in Barcelona.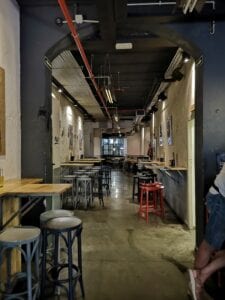 From the outside Garage is distinctive with its gold lightning bolt logo visible on it's sign from nearly a block away and the rock music playing through the open front windows. Inside, they have a dark industrial vibe with the bar and kitchen taking up most of the front right-hand side of the building and grey polished concrete floors leading you towards the back.
The main seating area for the restaurant and taproom are towards the back. The walls are, black, white and grey with murals and posters all over. At the very back, visible through large glass paned sliding doors is their brewery (or at least one of them). A beautiful 5 barrel brew kit that produces some of their one-off beers.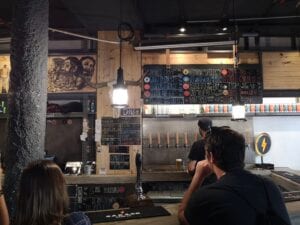 I tried their latest offering. A Cloudwater collaboration called Outlier. This is a Citra-hopped Session IPA that was super easy drinking with a nice smooth body and a good level of bitterness. I liked it so much I took a can home. Sadly, because I had limited time this visit I ended up taking some beers out. I've already mentioned the can of Outlier. I added Trinkets, another session IPA and their legendary Soup IPA to the mix. Soup is a Garage Brewing staple that everyone knows and loves.
I also bought a Perron which I've tried using and, surprisingly I managed to get the beer in my mouth – and not down my tee shirt!
For anyone who loves beer Garage Brewing is an ideal stop off. For me, personally, I think the beer is amazing but the taproom isn't to my taste. However, that's just a matter of personal taste.
It's still an amazingly lively social environment. Go on a Friday night and you'll see what I mean. Garage keep pushing the boundaries of Spanish craft beer and showing the world what Spain is capable of!