Utobeer – A Gem in Plain Sight
If you'er ever in London, just off Southbank is the beautiful Borough Market, a sprawling open air market located just under the overground. For the past 150 years its operated as just that a fruit, veg and meat market until recent. Over the past 20 years less and less tradition market stalls are there, in their place artisan micro shops selling delicacies and specialty foods from around the world.
Enter Utobeer, the market craft beer shop. Nestled away between two delicious wine traders, it really is the epitome of hidden in plain sight. They've been located at their stall holding since 1999 and have taken pride in selling and sourcing the best beer from around the UK and Europe since.
Although, small they offer a great range of beers including local brews and a wide range of Belgian and Trappist ales from around Europe. I would estimate they offer over 150 different beers and up to 50 spirits/pre-mixed cocktails. It's a nice collection for such a unique location.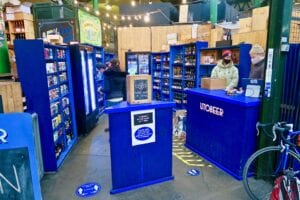 I can see it being an incredible space when we aren't suffering with Coronavirus, so a little of its charm is missing. What would normally be smiles, laugher and a bustling market space is replaced with security, hand sannetiser and masks.
Even with this the guys there are extremely freindly, they know what they are talking about and are clearly passionate about the product. Even better is they own a pub! just outside of the market where you can go enjoy a refreshing pint after lockdown. Trust me when I say I will be!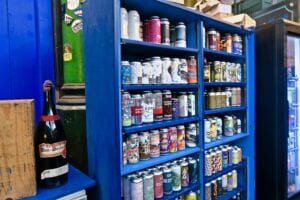 Their prices are extremely fair, with some of my favourite beers starting from as little as £2.00. Something I never thought possible in London!
Overall its a beautiful little space with great people and a good range, you can't fault it. I just wish I could have a drink there!