Pressure Drop – Slumber Affogato Stout
To be honest I've been looking forward to writing about this one. Anyone who knows me knows I love a big, thick, beast of a stout and Pressure Drop delivered. Slumber is a 10% ABV Affogato stout. And if I'm being honest before I tried this I had no idea what affogato was.
For those of you who don't know it's an Italian based coffee desert. Trust the Italians to give me a caffeine and sugar rush all at once. Traditionally the beautiful combination of fresh, hot espresso with rich, creamy vanilla Ice cream. But this time it's in a beer. Oh yum!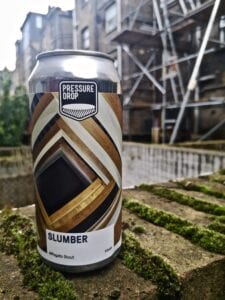 So the question is did Pressure Drop hit the spot? Yes I think they did. From the little I know about coffee and beer it, as with everything comes down to the quality of your raw ingredients. Pressure drop infused Madagascan vanilla with 50kg of Square Mile Coffee Roasters Red Brick Espresso Blend, with heaps of sugar, malts and oodles of lactose.
What this recipe created was an ice cream lovers wet dream. Literally because its a liquid!
On the nose you get notes of creamy vanilla, fresh ground espresso and caramel with hints of oak smoke. On the tongue you can tell is affegato, its creamy, thick rich and full of vanilla espresso flavour. As the professionals would say, its extremely quaffable. You can taste vanilla, caramel, coffee and cocoa throughout the beer. Normally you'd expect espresso to produce some bitterness in the beer, but the lactose runs right over it producing a very smooth, sweet finish.
Honestly this has been one of my favourite tastes this year. It was decadent, big and didn't disappoint. I really am looking forward to some more winter stouts, even though its spring!