Adventures in – Tea!
Yes, I know, I know, we're called "Adventures in Beer" but, as though of you who have read a number of my blogs will know, my Dad doesn't drink beer. I thought that I'd do a blog about tea as I really didn't want you feeling sorry for him. He really doesn't miss out.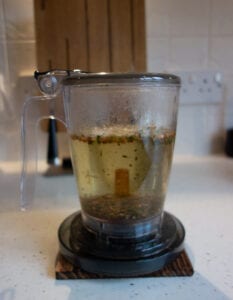 Dad's a bit of a toy person. He likes to "experiment" with things. This is his teapot.  You put the loose tea in the top along with the water, place the bottom on the top of the cup and the tea is automatically dispensed. It works best with glass mugs as you can see how full the cup is getting. We of course, use ordinary mugs so the odd mistake has been made and tea has come cascading over the top of the mug.
But it's dead easy to clean and it makes two mugs of tea.
The header photo is the tea shelf in the kitchen. There's at least another 10 different flavours of tea in one of the cupboards as well. Favourite tea merchants? Hebden Tea in York and Farrers in Kendal. Farrers also do nice coffee as well!
Favourite teas? Dad likes a fruit tea we bought in Majorca a couple of years ago (a long way to restock!), a tea called Lov Organic from Kusmi Teas of Paris (though we bought it in Berlin) and Dragon Wing tea from Hebden Teas in York.
Last time I went to York, Dad asked me to bring Dragon Wing back in industrial quantities. I bought a kilo bag for £45.00. You get a lot of tea in a kilo!