Uiltje Brewing Cafe/Bottleshop – Haarlem, Netherlands
You go to the beach for a couple of days with a friend in the knowledge that one of your favourite brewers is only 10km away. Well, who wouldn't get on their bikes and go for a visit? And what a visit. Great beer, great people and great fun!
I expected to find a bar but Uiltje has recently opened a bottleshop, come coffee and doughnut shop. How good is that? All the vices available, on demand, in one place. I decided to sit myself down and have my first coffee of this trip. A shock to many as, at Uni, I go through three of four coffees a day!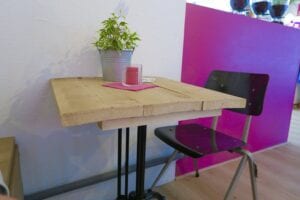 An organic latte and a caramel doughnut just hit the spot. After enjoying my coffee, I had to have a look through the 250 beers they had on offer, in addition to the coffees, clothes, jigsaw puzzles and other trinkets available.
Admittedly, I was very limited on the amount of space I had in my bag as it was already full of gear for the beach. But, seeing as I was there, I had to get some of their fresh cans to drink on the beach. I told myself I could only carry 6 but it soon became 7. It wasn't exactly hard to tempt me. I'm a sucker for new or unusual beers (thanks guys)!
The range of beer they hold is impressive; their collection included beers from the UK, France, Belgium, Germany, America and Asia. In addition, they stocked all of their own releases – itself a massive range. Styles ranged from Berliner Weisse all the way up to 18% imperial stouts.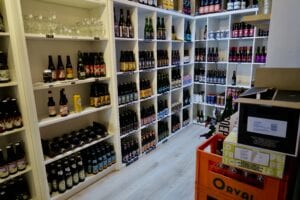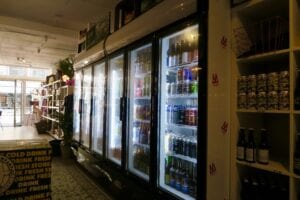 If you want a great coffee, doughnut or to buy from a great range of beer please pop into the shop and see these guys. The people are great and the doughnuts fresh. It really is a nice place to be in.