BRLO Berlin – The brewpub built out of Containers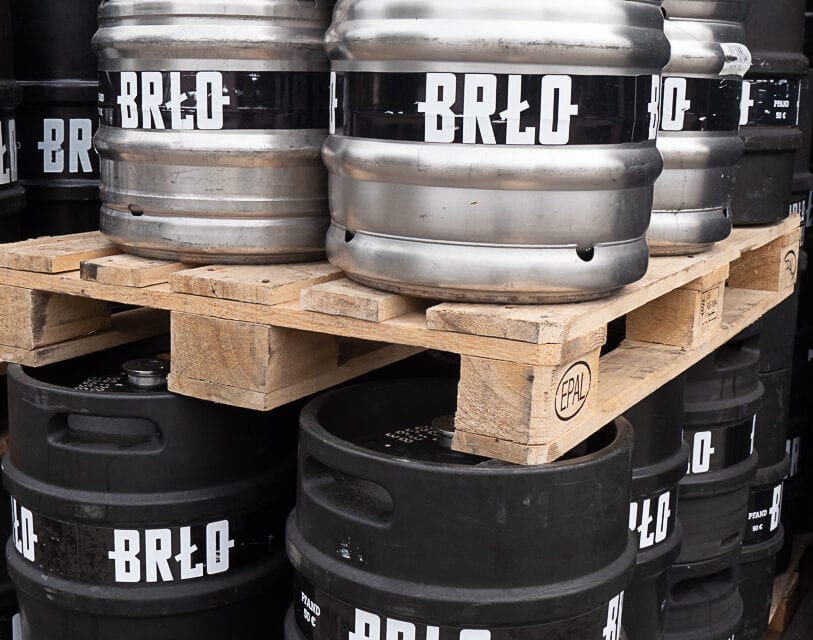 If you've read my blog on Berlin you'll know that, the first day ended up with us visiting BRLO Berlin (www.brlo.de).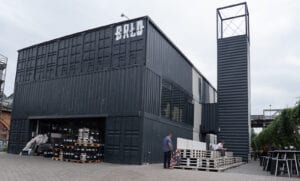 The building is quite literally made of old containers which seems highly appropriate when you realise that the site is bounded on two sides by overhead railway lines. As you walk through the gate off Schoneberger Str. the brewery and restaurant is on the left-hand side and the beer-garden is on the right. There is a choice of several bars in the beer garden along with a wide choice of food available from at least 4 different places. Over 20 different types of craft beer are served.
BRLO has clearly set out to attract families. There's drinking water available for dogs and a sand pit available for kids. There are tables in the open, tables under shade and deckchairs clustered in groups round the sandpit. It attracts a very cosmopolitan crowd – from all nationalities and both the young and old.
Anyway, time to sample so beers. Although there's a tasting platter of beers available, I decided to go "off piste" and buy 1/3rd litres. I wanted to try some of the more unusual beers (as I've said before, I am a sucker for the new or unusual).
I started with a Helles lager @ 5% ABV – probably my favourite of all the beers I tasted at BRLO. I also tried a Baltic Porter @ 7% ABV. This one didn't hit the spot for me. I would have rated it number 4 of the 5 beers I tried.
Mum picked a Porter @ 5.5.% ABV. This wasn't a bad beer. Nice coffee notes – the kind of thing that you'd expect from a decent porter (it was Mum's favourite of all the beers we tried). I'd have rated it my number 3. My number 2 was a NEIPA called: "I wish I knew how to quit you." Although I have no plans to quit NEIPA's, I rather enjoy them. I'd have quite happily gone back and got a second glass. But there was more tasting to do and a walk back to the tram that I need to accomplish without needing to be carried.
My final choice was the BRLO x Grand Paris XOXONut (Coconut) Micro IPA @ 2.9% ABV. This one did't work for me. I've never had a coconut IPA before, and I felt like the flavour didn't belong in the beer.
Not every beer can be a winner for everyone. The beer garden was something special and the food was good. Since travelling into Germany I've discovered Bratwurst and this was some of the best I've had. Most of the beer choices I made were very drinkable but, when you visit a craft brewery for the first time, there's always an element of "beer roulette" to choosing.
BRLO is yet another place that I'd happily visit again!