Berlin
It's been two months now since I left home so Mum and Dad decided to fly out to meet up with me in Berlin. As there's three of us and it would have been very cosy in the van we rented an Airbnb. Berlin feels like a young persons' town. The contrast between Mum and Dad's house; comfortable furniture, carpets, pastoral artwork and antique maps with the apartment we rented – all wood floors, low back furniture and scenes from graphic novels on the wall, couldn't have been starker. There was even a copy of "Playboy" on the coffee table though Mum buried it under a pile of other magazines.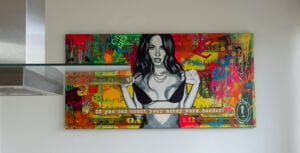 Mum, it may have escaped your notice but I am 22 now!
Berlin is a sprawling town. It may well be due to it's history – being split between east and west until 1991. But it doesn't feel like a town with a centre. We reckon we walked at least 10 miles the first day and we'd barely scratched the surface.
From Hackescher Market, to the Brandenberg Gate, to the Bundestag, past the Holocaust Memorial. They may only be granite slabs but they certainly make you think. Onto Checkpoint Charlie and the remains of the Berlin Wall. It's a town with a chequered history of oppression and suppression.
We ended up at BRLO Brwhouse (https://brlo-brwhouse.de/en/) where the England vs Sweden ladies football match was playing. Germany clearly supported Sweden (the price of Brexit, I suppose). If anything, BRLO served to confirm that Germany has left it's history long behind. BRLO was a cosmopolitan meeting place for all nationalities with English (or maybe I should say American) as it's common language and some incredible beers to boot. It was the ideal end to a long and thought provoking day.
I haven't included any photos of BRLO as that will get it's own post which I'll publish shortly – along with posts covering Lemke Berlin, Braufactum and Kaschk.