Zandvoort and Haarlem
So the past week and a half has a been an interesting one. I got invited to the Defcon1 music festival by a new friend and so came back to Aachen to meet up with her and sort the final details out. However, it fell through. While chatting my friend, Alina she suggested we go to the beach for the weekend. As I'd already driven back to Aachen, it made perfect sense. So, to the beach we went.
We got up early Saturday morning for the drive to Zandvoort, Netherlands, on a beautiful sunny day. It took us over an hour to find a campsite because everywhere was so busy. As soon as we were parked, it was  swimsuits on, cold beer purchased and off to the beach we went.
In my opinion, there is nothing better that walking barefoot on a sandy white beach with the sun shining and a cold beer near to hand. It's just a shame that, in the photo below, I didn't have one (the cold beer in hand, that is!)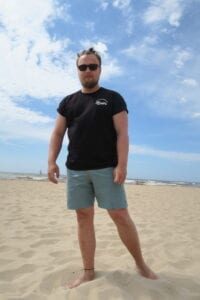 Over the weekend, we relaxed; we drank both amazing and terrible beer (Uiltje brewing & Heiniken), got slightly sunburnt, enjoyed some well cooked bbq and had a few laughs. Admittedly, I don't think either of us anticipated putting so many miles on our bikes over the weekend. But hey ho, it was still a lot of fun.
It is always great to see old friends like Alina, and make new ones. Weekends like this really help me understand why I like travelling so much. Even though we did nothing 'extreme' it is still a weekend that made great memories – mainly of how cold the water was, and of me burning the fish on the barbecue… Sorry Alina!
Hopefully, we'll be able to do another one soon.