Track Brewing – So Far So Fast, Rhubarb and Gooseberry Sour
It has been the season for big hitting sours this year. Some have been amazing, and others have been lacking. Tracks most recent sour, So Far So Fast hits it out the ballpark with flavour.
My Dad used to tell me that a story should have a beginning, a middle and an end (he learned that at school – it's deep isn't it?). When you think about it, the same principle can, and should, be applied to beer, It should have an initial note, be it sour, sweet, citrusy etc. It should have a middle – a malty backbone; barley flavours, bitterness. The end, the aftertaste, should be the flavour that lingers after the liquid has gone. Track have, I would argue, created a very enjoyable story in this 440ml can of beer.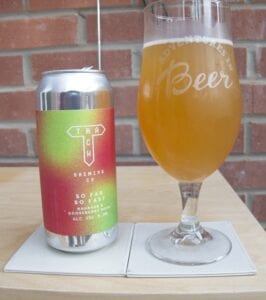 To begin with, you are met with the fresh fruity aroma of tart gooseberry and sweet rhubarb then there are some light lemon sorbet notes. the initial flavour is soft and sweet, packed full of crazy rhubarb, with a light tartness. After this initial flavour you begin to feel the tart hit of the gooseberry, which comes with a light sharpness. The after tones are of sour lemon sorbet, and sweet summer fruit. It leaves a lingering taste on your tongue that is extremely enjoyable.
The body for a 6.0% beer is surprisingly light; it doesn't feel heavy or heavily carbonated. But it is full enough to really accentuate the fruit flavour. The beer is a great example of what balance is all about, a cross between sweet fruity flavour, light, enjoyable tartness and lasting flavours.
Track has done an amazing job on this beer, its packed full of flavour and has a story to tell. I would go as far as to say this is one of my favourite sour beers of 2020 so far. My parents agreed, which is surprising considering neither of them are fans of sour beers!
It is a must try in my opinion, and I am really looking forward to trying more sours from Track in the near future.