Another excuse to try a few more Gins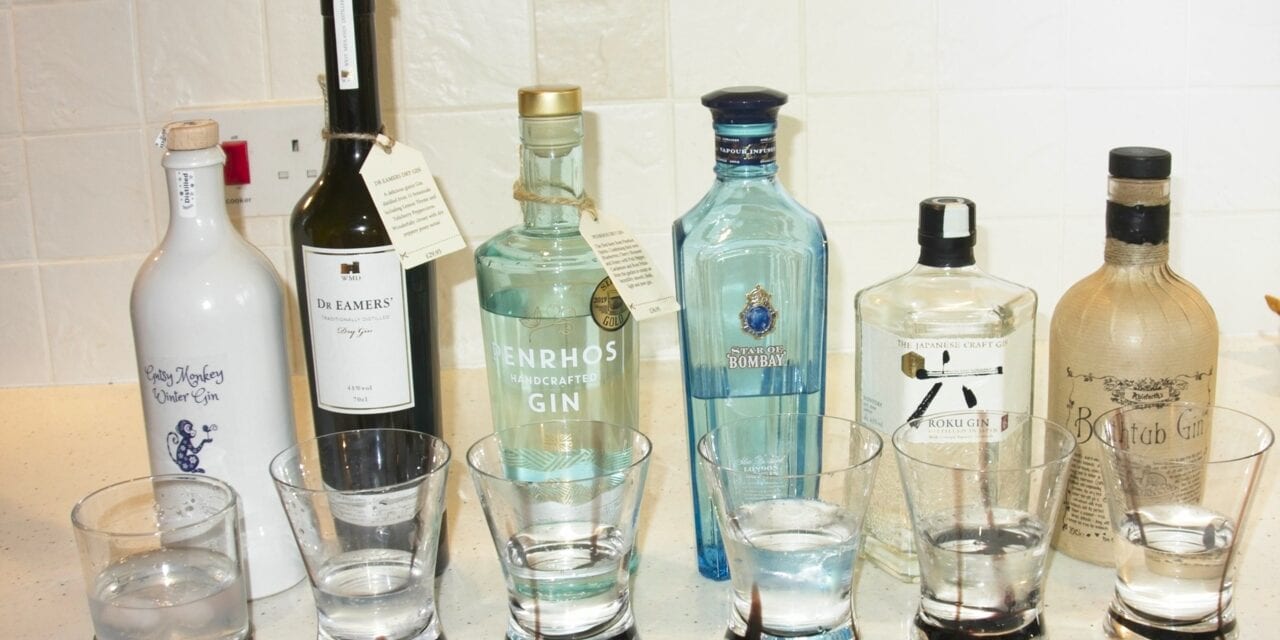 When I came back from Uni I was carrying a bit too much timber. The bathroom scales said I was verging on obese which was not a good place to be at only 23. As part of watching my weight I've started to drink gin with slimline tonic which is about 115 calories per glass compared to a 330ml can of IPA which is about 200 calories. An Imperial Stout of the same size is getting on for 300 calories.
I've managed to lose over a stone, so far (for my EU readers that's 6.35kg and for my American readers 14 pounds).
Last weekend, we just happened to have 8 different bottles of dry gin in the house. Mum and I had no plans that required us to drive the next day so we decided to have a tasting session to update the results of the gin tasting session we had a few months ago.
If you read my previous blog you'll see the clear favourite, last time, was Gutsy Monkey Winter Gin by the Gin Kitchen of Dorking (www.gin.kitchen). This time round, the competition was tougher and the decision not so clear cut. Some gins that found favour last time suffered heavy demotions this time round!
Our two least favourite gins, Whitley Neil and Bombay Sapphire are not shown. Whitley Neil, which Mum rated last time round, is firmly in the demotion zone and probably won't be bought again. Bombay Sapphire – we liked – we just thought the remaining 6 better. Bombay Sapphire, in particular, has a very different flavour profile to most of the other gins with some very earthy and spicy notes, rather than the floral and citrusy that we felt more prominent in our final 6.
Starting with number 6 – Star of Bombay.
We thought it an excellent gin, nicely balanced; sharp but not too sharp, dry but not too dry. It had some nice citrusy notes to it. If it was the same price as Roku or Bathtub gin it would have come fourth. At £35 a bottle (though Asda have it for £25.00) we thought it a bit too expensive, particularly as it was £41.00 when we looked last weekend! Last time we tried this gin it was runner-up to Gutsy Monkey for both Mum and I.
At Asda's price every time we bought it, it would be number 4, ahead of Bathtub and Roku.
At number 5 – Bathtub Gin (www.ableforths.com).
A really nice flavour but, disappointingly, it didn't linger. Light citrusy tones with notes of juniper. Floral, rather than herby. Pleasant to drink but lacks depth of flavour. Nothing jumps out – good but not great. Bought at £25.00 from Amazon.
Number 4 – Roku
Roku is a Japanese gin, mass produced by Suntory. Until recently, it would have been close to the top of the table for me (checking my last set of tasting notes it was number 3 for me). Sharp rather than dry. Very citrusy with lemons, lime and a touch of orange. A very clean, crisp tasting gin. Also bought from Amazon at £25.00.
Number 3 – Gutsy Monkey Winter Gin. 
Number 1 for flavour. Cloudy like lemonade. In fact, Mum describes it as "lemonade gin." Around £40 to £45 a bottle. We were fortunate enough to pick it up in a sale at Beer Ambleside for £38.00 (www.beergb.com.) Although called a winter gin, it's a perfect balance between summer and winter. I'd happily drink it any time! Forward notes of lemon, lime and orange backed up by warming spice notes of cinnamon and cloves. Not particularly dry with lingering floral aftertones.
Number 2 – Penrhos Handcrafted Gin (www.penrhosspirits.co.uk).
Brewed in Herefordshire. Combines blueberries, cherry blossom, cardamom, rose petals, honey and pink pepper (the list of ingredients sounds a but like: "what are little girls made of? Sugar and spice and all things nice…")
A SIP Awards 2019 gold medal winner and a real winner for us as well! Tastes of honey, blueberries with cherry notes. I didn't get much from the pepper but Mum did. Definitely a dry gin with a very nice aftertaste long after it's gone. We paid £37.00 for it from Moonshine & Fuggles in Ironbridge (www.moonshineandfuggles.com).
Finally, number 1 on the value for money x flavour list – Dr. Eamers' Traditionally Distilled Dry Gin (www.dreamersemporium.co.uk).
Also bought from Moonshine & Fuggles. The label attached by Moonshire & Fuggles says: "A delicious ginny Gin distilled from 11 botanicals including lemon, thyme and telicherry peppercorns. Wonderfully citrusy with dry peppery, piney notes."
Well, they've done most of my job for me. It's a delicious dry gin with lemon, juniper and pine notes to it. Again, I don't get the peppery – flavour but maybe that's just me. But the gin is a real revelation and, for £29.95 it represents excellent value. In fact, I thought it so good that I went back later in the week and bought a bottle of Dr. Eamers' Prescription Strength Gin, about which more in another blog.
So, the final list, in order of flavour – worst to best:
8 – Whitley Neil ( to be demoted)
7 – Bombay Sapphire
6 – Bathtub
5 – Roku
4 – Star of Bombay
3 – Penrhos
2 – Dr. Eamers'
1 – Gutsy Monkey