Uiltje Brewing – Doctor Raptor Imperial IPA
Uiltje brewing and another of their core range have graced my stomach and more importantly my tastebuds with another quaffable beer once again. Dr Raptor, the most dastardly doctor in all of brewing is back in beer form, an imperial IPA no less.
With an ABV of 9.2% Dr Raptor has strength, but I can also confirm it has flavour and body.
To start with the aroma, it's complex, there is no denying this. Uiltje have gone to town on the hops they've used in this beer with  Cascade, Simcoe, Mosaic, Nelson-Sauvin, Chinook, Amarillo, Centennial & Citra all making appearances on the hop list. From this there are aromas of biscuit, grapefruit, light citrus tones, orange and some hints of caramel.
When you take a sip you are greeted to a nice malt base, its rich and thick. You feel the body of the beer, I'd argue that it resembles an American IPA in body.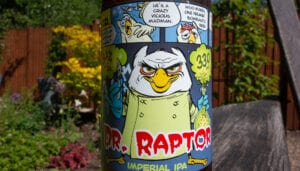 Flavour wise there are heavy malt tones/ creating a nice caramel/biscuit flavour that are then backed up by the herbal and citrus flavours that the hops bring to the table. This all finally culminates in a nice bitter finish just like an IPA should. I love it, it's so complex while at the same time feeling so drinkable. It doesn't feel like a 9% beer, I would say more around the 5.5%.
As a core beer its a great one, just watch out for the ABV. It will catch up to you fast so be warned. If you find it in the UK I would argue it is a must try beer.