AleBroWar – Gdyina
One of the main reasons I came to Poland was to go and check out AleBroWar. I first discovered their beers in Dusseldorf way back when … and by that I mean near the beginning of this trip. The first beer of theirs I had was "El Fruito," a Fruited DIPA at 8.6% that I really enjoyed. Fast forward a little to Wingman, Aachen, and I was lucky enough to try an entire range of their beers courtesy of the bar's owner who invited me to drink some with his friends.
So, at that point I decided that, if I am going through Poland, I should pay them a visit. Fast forward again a few more weeks and I was heading towards Gdyina. Originally, I only planned to stop for a few beers to takeaway but I like Gdyina so much I thought I would stay a while.
AleBroWar is perfectly positioned with restaurants either side. You can bring the food from the restaurants into the AleBroWar bar. On one side is a Hawaiian themed restaurant and on the other and Italian. Yum! Right?
So, what's it like on the inside? On the inside it is clean and compact. There are no crazy colour schemes; just black, white and oak wood. The bar is situated In the back corner of the room with the taps, of which there are around 15, along the left wall. Downstairs, are toilets and what I thought was a little bottle shop. Along the full left side of the place is a black mural painted on the wall.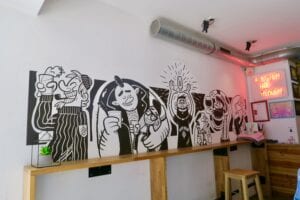 There's a legal drink and cycle limit in Poland so I could only try a couple. The first, was their mosaic pale ale. Just a nice simple single hopped pale that really made the hop shine. The second was their 'King Of Hop.' A pale ale with Amarillo, Mosaic and Centennial hops. It was fresh, bitter and had a nice tones of tropical fruit throughout. However, it was a bit too gassy for me. Finally, I had Rowing Jack, a mega hopped IPA with my favourite hop Citra. It had nice mango and grapefruit flavours paired with an easy going bitterness and a malty aftertaste. Overall a great, easy going IPA.
If your in Northern Poland I would definitely suggest stopping off in Gdyina. Its a beautiful town with great people and some very good beer!