Beer Store Vienna – Nondescript, small but perfectly formed
A bit of a walk from the centre of Vienna is Beer Store Vienna. It's a fairly nondescript place in a residential area of Vienna – but, in my experience, most craft beer shops are pretty nondescript. I guess it makes the rents fairly cheap.
Nondescript it may have been – but it was full of beery potential!
As you walk in you are greeted by the counter and bar on the left hand side and shelves stack full of beer on the right. In front of you, is the entrance to a second room – again full of delicious beers. The back room is all organised into beer styles and the front is organised by brewery, including new stock and locally produced beer.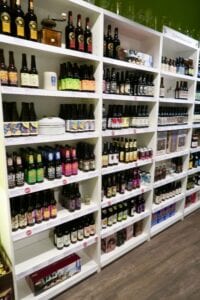 I was very tempted by the idea of a few fresh pours and cold cans but I had some prior engagements so needed to stay reasonably sober.
I decided on a six pack of locally produced beer instead. I had a couple of bottles from Hannscraft brewing. The first was Split Decision Hallertau edition A 6.3% IPA that is hoppy, fresh and fruity. The second, was their Bayerisch Nizza Wheat Beer. It's beautifully balanced, packed full of orange and coriander flavour. It had beautiful head retention and a smooth creamy body.
I haven't opened the other four yet. I'm saving them but they were 100 Blumen 1030 Pilsner, and 1010 Ale. I also had the Five O'Clock Earl Grey IPA and The Twister, a New England IPA from Next Level Brewing who are local to Vienna.
More updates about the beers will come soon. Well, as soon as I've drunk them that is! For a small beer shop they hold a nice solid collection of beer. I reckon they had around 250 to 300 different varieties. They try and stay with beers from Germany and Austria giving customers the best of the area. This is something I really like. They aren't trying to be to big, they just want to be your quality neighbourhood beer store. Make sure to drop in next time your around Vienna.