Kalderkold – The Beer Bar Speakeasy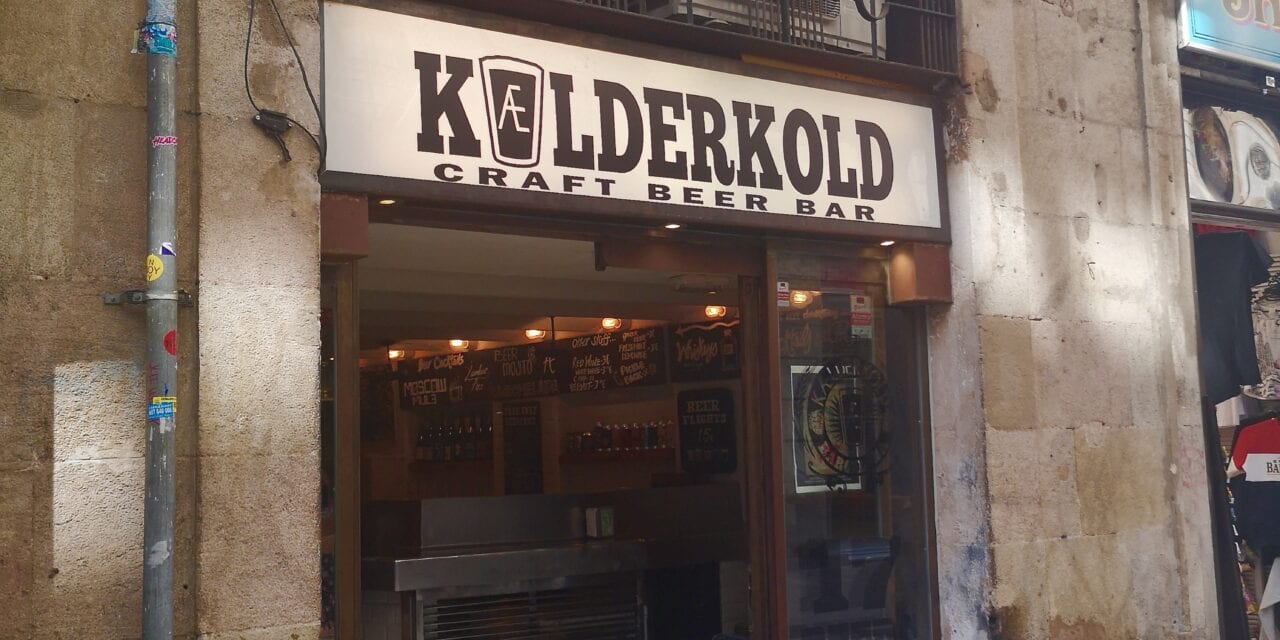 Kalderkold is a small but perfectly formed place that sells an amazing range of beer from around Spain and Europe. It also has it's own speakeasy in the back. It's just off of Las Ramblas (the busiest street in Barcelona).
As you walk in, you are greeted by a long brushed aluminium bar running the entire length of the right-hand side of the shop. In front of the bar – well, there's only enough room for bar stools and a passageway to the speakeasy I mentioned in the introduction. A series of large blackboards on the wall behind the bar list all the beers on tap and, as can be seen from the picture below, there's quite a few taps!
Either side of the taps are cans of beer that are available to drink in or take-away. In addition, there are several other black boards around the room with different foods, beers and cocktails that are available to try.
Kalderkold just oozes simplicity and cleanliness. With polished concrete floors, dark wood furniture, brushed aluminium counter tops and white walls. It is a perfect place to enjoy some beers while exploring the incredible city of Barcelona.
What of the speakeasy, I hear you say?
Well, at the far end of the bar, down some steps, past the toilets on the right-hand side is a "hidden" room. A whiskey bar with an additional 6 beers taps decorated like a 1930s American prohibition-era speakeasy.
The  plush furniture and dark walls are just such a contrast to the clinical presentation of the front-of-house bar. This is what makes Kalderkold such a unique place. I love it; well beer and whiskey are two of my favourite beverages!
You can't visit a bar and not try the beers so:
My first beer was Soma Brewing's Pyramid NEIPA (7%). It was fresh, juicy and packed full of citrus fruit flavour. It has a thick, smooth body with minimal bitterness. It's just perfect after a long walk around the city.
My second beer was a recommendation. Garage Brewing X Cloudwater Owt Wi'th Owls Mi Owd. An Elderberry and Grape sour that was just amazing @ 4.5% ABV. It was just bursting with juicy sour fruit flavour. The grapes really shine in this beer. They gave it a distinctive flavour that remained on the tongue long after each sip. I also thought it was surprisingly smooth, for a sour. I thought it had the body of a stronger beer that I thought made it a more easy-drinking than a typical sour. For a hot summer's day it was the perfect thirst quencher.
Kalderkold is an amazing hidden spot in Barcelona but the people who know it swear by it. When you're their, you're in great company.
Good people, great beer and an amazing vibe. A strong recommendation to anyone in Barcelona.