U Kunštátů – Craft Beer In Old Prague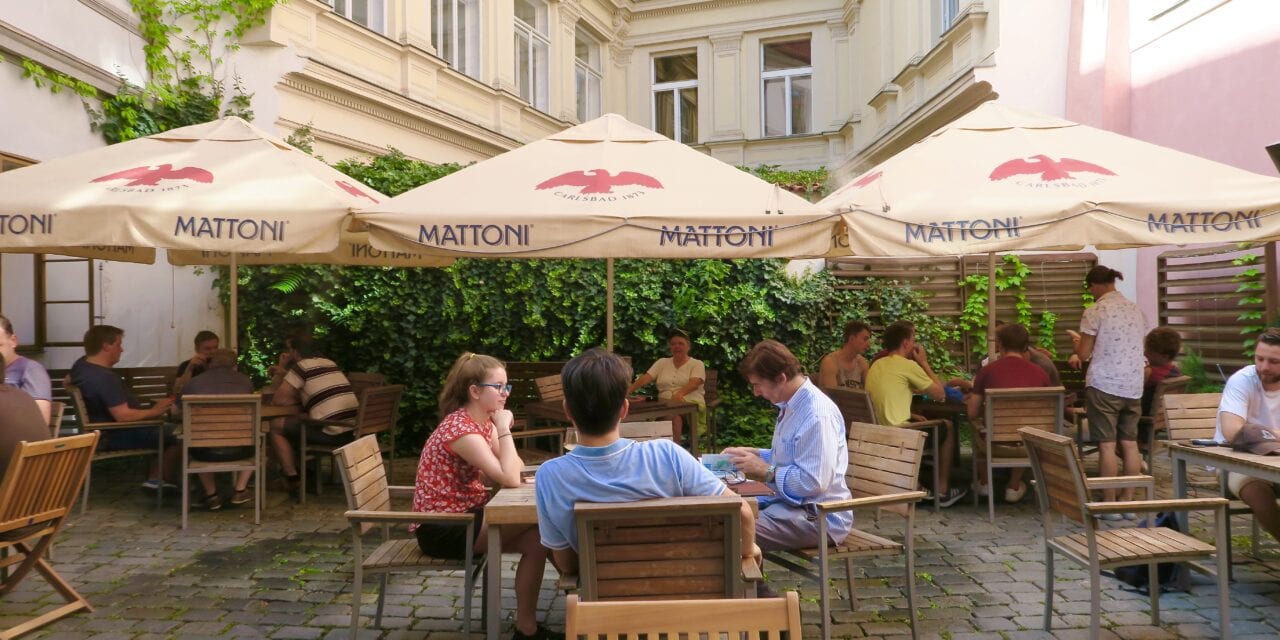 Right in the heart of old Prague, hidden in a courtyard off a side street next to the main tourist thoroughfares in Prague, is this place. A "Craft Beer Bar & Courtyard" that is just a gem. The focus is on sourcing and selling the best the Czechia has to offer. The bar runs a range of events including a regular 90 minute beer tasting session you can sign up for.
U Kunštátů sells beer flights; over 100 different bottled beers, 3 draft beers and a nice range of well-prepared local style food to accompany the beers. It's a stunning place. When you walk, you find a table in their superb courtyard and the bar staff will come to you. It is literally the perfect place to drink beer. It is not too far away from everything yet is so quiet and peaceful. You could say its a beer lovers Zen garden.
So Beer. I had to go for a flight of 6 beers for about £12. Not all of these beers came out of tap either, which is rather unique.
The first of the beers was Raven Brewing Strawberry Weisse (3.7%). It was a super smooth, tart strawberry Berliner Weisse that really whet my appetite. The second was Bakalar Brewing Dry Hopped Larger (5.2%). It had a great malt flavour and good body but was a bit too gassy for me. My third beer was Albrecht Brewing's Katerina Dark Larger (4.5%). It had good bitterness and body and beautiful coffee flavour.
The fourth round was Zichovec Brewing's Mosaic NEIPA (7.5%). It was my favourite from the tasting tray. Super fresh, juicy and good citrus flavour. My fifth was Matuska Brewing Wit at 5.2%. It had great body, and colour with a good head. Flavour wise it was packed full of fresh banana flavour. The final beer on the platter was by Pardubice Brewery. It was their Porter at 8%; it is more of a strong porter than a traditional one. It had a beautiful treacle and coffee flavour. It was very smooth and easy going, however, it lacked the body I was expecting for a beer with its ABV.
If you want somewhere that sells great local cuisine, paired with an amazing selection of beer, in the heart of Prague without thousands of people walking past you this is your place. The staff are friendly, the beer is good, and the environment is so relaxing. Next time I'm in Prague I will be coming back here.