Learning To Surf – Barcelona
I was lucky enough to end up on a campsite at El Mansou, near Barcelona that was just off the beach.
I love the beach. The last 3 months have been divided between visiting towns and cities, beer-tasting and spending time on the beach. If anything, I'd have to say that the beach is where I am happiest and most relaxed.
Since I was 4, most of my holidays have been spent in the English Lake District so I've done some canoeing and a bit of sailing but I've never had the opportunity to learn to surf.
About 200mtrs from the campsite was a surf and skateboarding school called Maresme Waves (www.maresmewaves.com). After 3 months living in a camper van I look like a beach bum so I thought it was time to give some new watersports a go. Learning to ride a surfboard seemed like a good idea.
I booked a lesson with Robert, manager at Maresme, and a professional surfer. Robert taught me how to paddle, stand and to bail if I needed to – all on dry land. Then it was time for the water.
The weather was amazing but the waves weren't. As Robert explained, perfect waves are consistent and come from single direction. On the day I had a go they were coming from everywhere and anywhere (or, at least, that's what it felt like.)
As soon as I was in the water I was out of my element.
You rely upon core strength to keep your board steady when paddling out. I have muscular legs and arms but little or no core strength and absolutely no stamina. I was knackered after the first paddle out, but I was having a blast! Then came the first wave. Robert held my board and steadied me for the wave giving me clear instructions to paddle. I did. The way the speed picked up on the board was exhilarating. In a rush of madness and adrenaline I tried standing up but ended up crashing into the water instead. I came out beaming from ear to ear.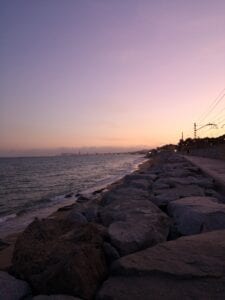 For the next hour and a half we carried on paddling out, pushing off with me trying to stand. My confidence grew a lot but I didn't manage it. I had an absolute blast so much so I am currently writing this after spending the past 2 days on a beach surfing in northern Spain.
I have to say a massive thank you to all the guys from Maresme Waves for being awesome and especially to Robert for getting me into a new sport I really love! Hopefully, I'll be surfing with you soon – and standing up to do it!