Pivovarský klub – The Old School Craft Beer Place In Prague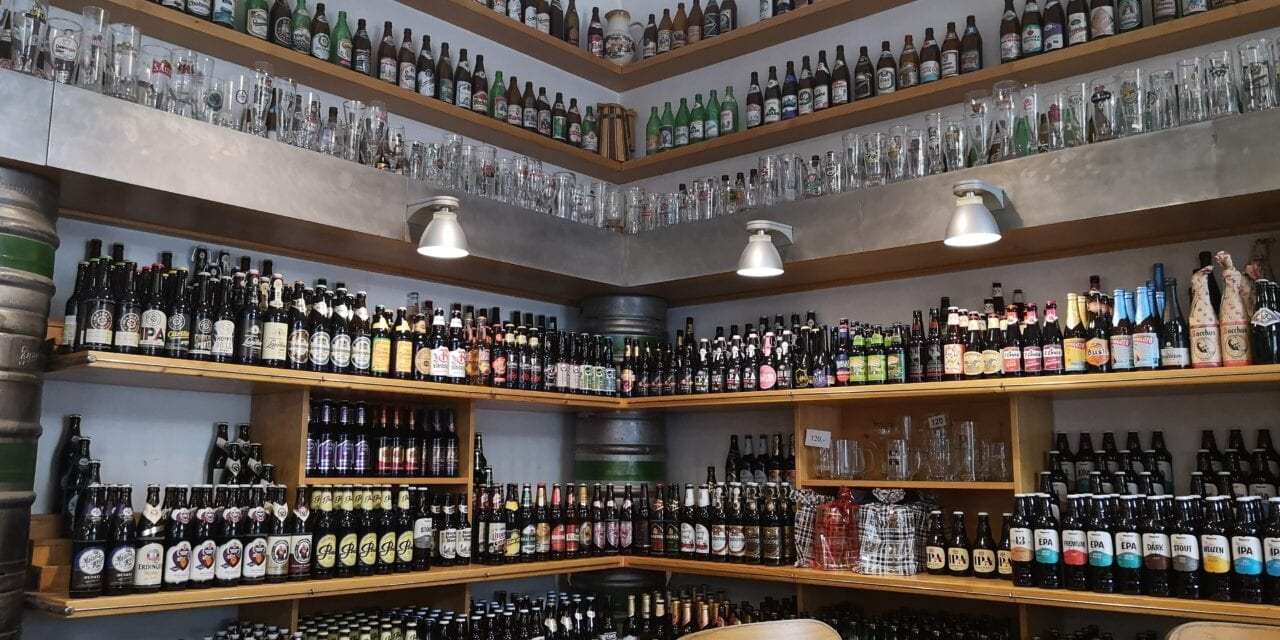 Slightly out of the main town centre, across the street from the "New Town" Theatre is this local spot. Like many of the places I visited in Prague, it was not flamboyant in any sense. There were only simply window displays of hop vines and copper brew kettles to give it away.
You walk in, through a set of old wooden doors, to the kind of clean white space with tables and chairs you'd expect to find in a 1990s Ikea catalogue. But, there is one big difference. The walls are adorned with empty bottles of beer – hundreds of them – as well as around 300 bottled beers you can drink in or takeaway. Somebody must have had a very good time drinking all of those beers!
On each table you see an inch thick slab of paper aka. "The beer menu".
I was lucky enough to be shown this place by my good friend Lukas, who lives in Prague. For our first round we went for some locally brewed lager. Mine was by Pivovar Herald, their No.8. Fresh, crisp and very easy drinking with a smoother body that your typical Pilsner Urquell and less gas. It went down a treat.
Our shared second round was Waffle Dance by Piovar Raven and Brew Team Praha's Enigma 14. Their American IPA. Waffle Dance stands a chance of making it into my beer top ten – it was that good! It's a classical style Amber Ale that is made to taste like Caramel Waffles. Honestly, it delivers exactly what you would want. A beautiful elegant, flavourful beer that is exactly as advertised. Brewing Praha's American IPA was very good too. It was more of a tradtional IPA with good bitter aftertones and a nice initial hop flavour. It was fairly thick and more of a clear, amber colour. Tones of dark fruits and pine were present throughout the beer.
For our final round I was told I have to try real Absinthe. At about 80% abv it's the strongest drink I've ever had. Absinthe is lime green in colour and smells like bitters. It really is something you have to try. The initial flavour on your tongue is smooth and herbal but, on the way down, you really feel the alcohol burn. As my Dad once told me: "You'll either love it or hate it."
If you don't mind a bit of a walk I would definitely suggest paying this place a visit. The selection is amazing and the atmosphere really shows what traditional Czech beer is all about.