Craft House – Prague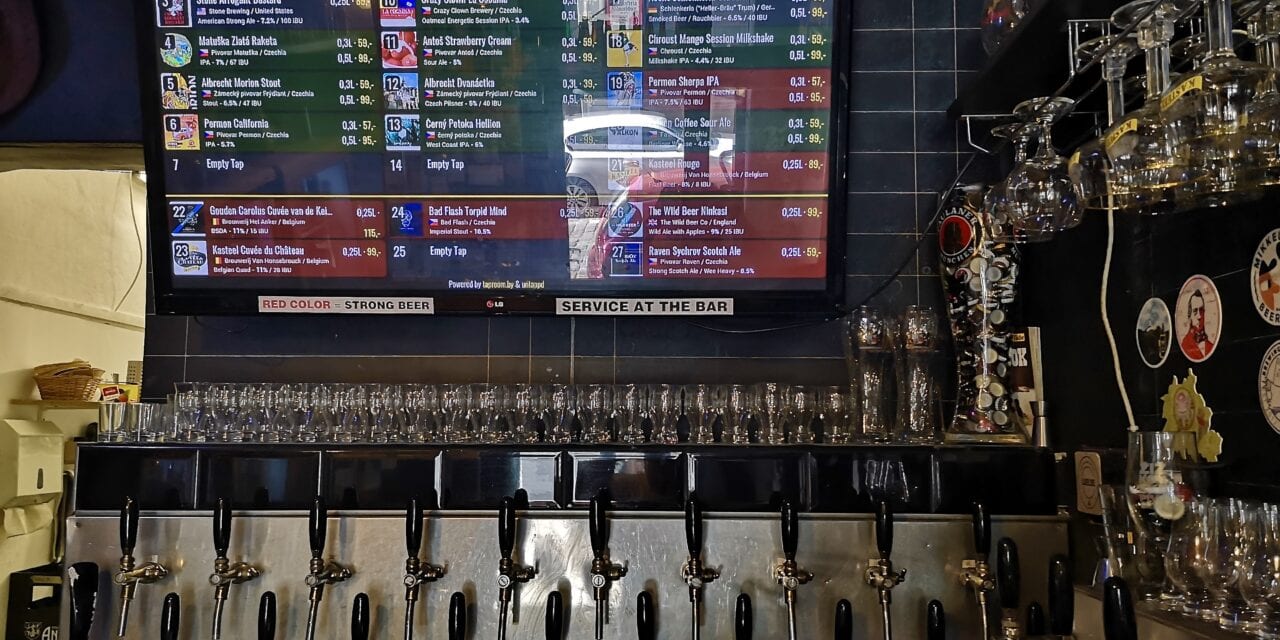 Craft House is one of the many craft beer places in Prague. But with its own unique twist. It is a bar that's tucked away under a block of flats. Unless you're looking for the single sign above the bar you would easily miss it the first time you pass it.
Inside there isn't much that gives it away apart from the amazing selection of beer and whiskey they have in their small bar area. 27 taps, over 100 bottles and 25 different whiskeys as well as the many other drinks they have on offer.
The interior is very simple. Grey walls with pieces of art based around beer and a beer styles Mind Map that takes up a whole wall. The furniture and environment reminds me of a Marston's Restaurant back in the UK.
Strong sturdy furniture with not a lot of style. But, on my travels, this makes it very unique place. They haven't followed the latest industrial furniture / building site scaffold pole design format that a lot of their contemporaries have adopted.
They've a fantastic collection of Czech-brewed beer which, well, I had to try a few, didn't I? About 12-15 of their beers on draft are from local breweries which is great to see. Whenever I'm anywhere new, I like to try some of the local brews.
The first beer I tried was by Piovar Antos and was on tap. It was the No.13 NE-IPA a 5.4% NEIPA. It was fresh, juicy and easy going. It had a soft head and almost zero bitterness. It was also full of summer fruit flavours including notes of lemon and mango.
My second was, again, on tap (I'm a sucker for an easy sales pitch). It was by Permon Brewing, another Czech brewery.
The beer was called Permon California and was their version of a nicely hopped American IPA. At 5.6% it was full of flavour. Hoppy, citrusy, fresh and bitter. Exactly how an American IPA should be. I would strongly recommend it,  if you're in Prague.
My third choice was Chorus Brewing Mango Milkshake Session IPA. Milkshake IPAs is a style I have seen frequently on my trip and one I've enjoyed a lot. This beer was no different, albeit it was a much lighter milkshake beer than I am used to as it's a SIPA. It was packed full of sweet, juicy mango and was light and refreshing. However, the bitter after notes were a bit much for my palette.
In the end, I had one final beer and a few take-aways. In my view, this was the best of a pretty good bunch! It was Piovar Raven's Raven Waffle Dance A caramel waffle flavoured brown ale that was just divine. Smooth, easy going and full of flavour. It really hit my sweet tooth (Yes, I know. I have one!) Just writing this piece about it has me really want another but, sadly, it wasn't one of my take-aways so I'll have to wait to the next time I'm in Prague.
On A final note the staff are great and could be relied upon for some really special recommendations. Their knowledge of local beers, bars and breweries was second to none and they were more than happy to chat.
If your in the area make sure to say hi!