Lemke Berlin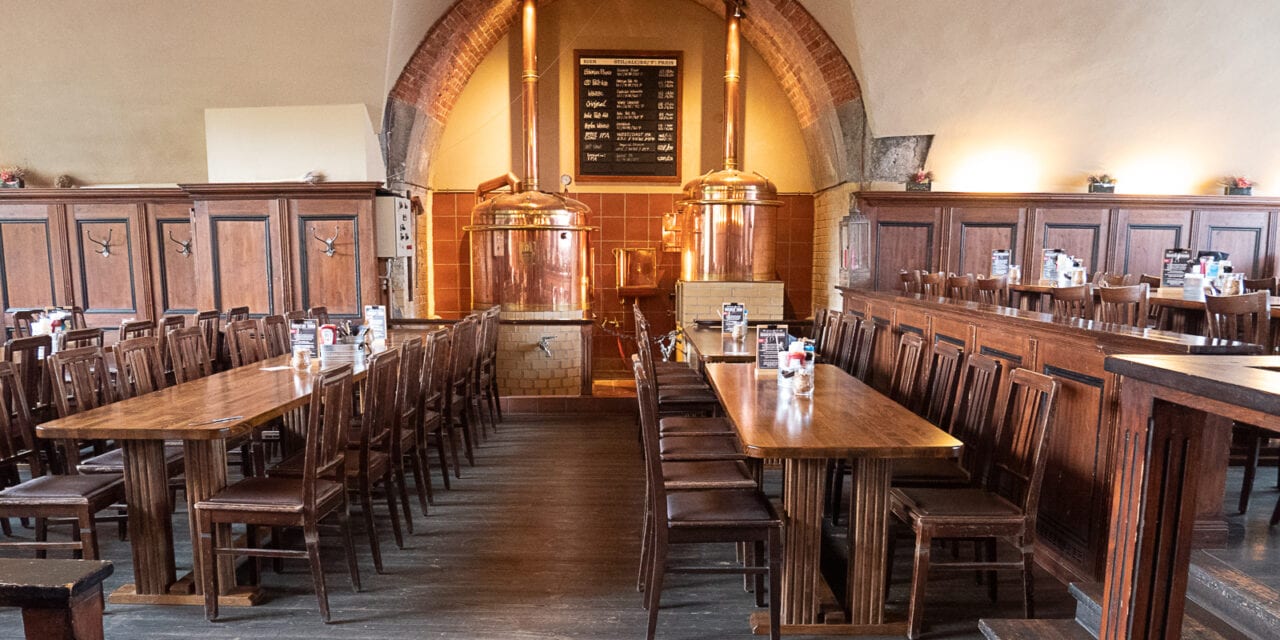 We knew there was a good microbrewery near Hackeschen Market but, on Saturday night, in the pouring rain, could we find it? Not a chance! We ended up at a Tapas bar where the food was excellent but the beer was sh*t. On Sunday, we decided to try again and, this time, we found it but it seemed deserted. Not a good start to the day – until Dad realised we were trying to get in the back and the front door was wide open.
Lemke (www.lemke.berlin) have three bars in Berlin and the one at Hackeschen Market is underneath some railway arches next to a supermarket. It's a big place with a variety of seating areas and a large outdoor seating area at the back. There's easy-chairs, barstools and a large "refectory" type seating area – the long tables that you'd typically associate with "Octoberfest." We made for the easy chairs.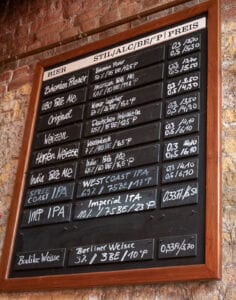 Lemke had some interesting beers so I went for the tasting platter. Mum thought it was too early to drink (it's never too early for beer) so she stuck with coffee and Dad – well, he's allergic to alcohol so, as usual, he went for green tea.
I've included a copy of the beer menu because, by the time we left, I'd tried pretty much all of them but the West Coast IPA as it's not a beer style that I'm particularly fond of.
Firstly, although it's not a big range it's a range of real quality beers. Without a doubt, of all the beers we drank in Berlin, Lemke produced the best. They were of a uniformly high standard.
Bohemian Pilsner (5% ABV): This was smoother and flatter than most pilsners I've tried over the past few weeks with minimal carbonation and no real head. It wasn't sharp, but there were hints of bitterness throughout – the bitterness came through as an after note. It had a malty backbone and a herby aroma with hints of rose and mint. It was a very drinkable pilsner but, surprisingly ended up at my 5th favourite beer of this tasting session because I thought the other choices even better.
030 – American style pale ale (5% ABV): The first thing that hits you with this beer is the Citra hoppy smell with possibly some Cascade in the mix. I thought this beer was darker than a regular IPA. I got flavours of grapefruit and honeydew melon with some toast and toffee. The tasting notes said that there would be herbal nuances but I didn't get them. It was easygoing and refreshing beer with minimal bitterness.
It's an award at the World Beer Awards 2016 but it came in number 3 = in Tim's tasting test.
Original (5.4% ABV):This is a Wiener Lager – and another World Beer Awards winner – this time from 2015.
It had a nice roast malt aroma with hints of chocolate, toffee and cacao (the tasting notes suggested there was some pepper in there as well, but I didn't get that.) It was dry, rich and very smooth and came in at Number 2 in Tim's tasting.
Weizen (5.5% ABV): This has a very Banana and Vanilla smell – similar to the aroma of a Belgian Blond but much darker in colour. It had a thin mouthfeel and a juicy texture. I thought it tasted like peanut butter and banana on toast. It managed to be sweet, malty, spicy all at the same time. It was very smooth and certainly moorish. It was my number 1. Even Dad (remember, he's allergic to alcohol) had a taste.
Hopfen Weiss (7% ABV): This beer is a mix of a Bavarian Weissenbock and an American-style IPA. It smelt and tasted of banana – but not as strongly as the Weizen. There were honey tones and herbal notes. It had good body and was not particularly bitter but the problem, for me, was that the Weissenbock overtook the flavour of the IPA so it didn't feel particularly well-balanced. It ended up 3= in Tim's tasting.
IPA (6.5% ABV): This was an amber colour and had a grapefruit smell with notes of Pine. I thought it probably used Cascade and Amarillo hops. It had a nice malty backbone with hints of caramel and good body for an IPA. It wasn't as bitter as I'd have expected and IPA to be. It came in number 4 in Tim's tasting.
Finally, I tried a bottled Imperial stout @ 11% ABV. I didn't rate this one and I should have done. It would have come in number 2 for me and number 1 for Mum and Dad. (Yes. I know he's not supposed to drink, but he does have the occasional sip so that he can taste what Mum and I are on about). This was something completely different to the norm and none the worst for it. It was made with lager malts and had a slightly sour flavour. It lacked the "body" you'd normally expect from an Imperial stout. Nor did it have the typical coffee/chocolatey flavour either. Although rated at 70 on the IBU scale I didn't really get much bitterness from it.
It did have a nice head with a yeasty smell and liquorice notes. I really liked it. It had a unique flavour for an Imperial stout but the real problem, for me, would be the lack of body. I'd drink it far too quickly – not a good place to be with an 11% beer!
Certainly one of the most interesting beers that I drank in Berlin and one that I'd happily drink again.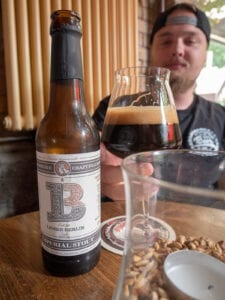 At the end of the day, Lemke was the place we went back to before leaving Berlin. The beer was great, the service excellent and the food wasn't bad either. Highly recommended.