Outro Lado – Lisbon – Where It All Began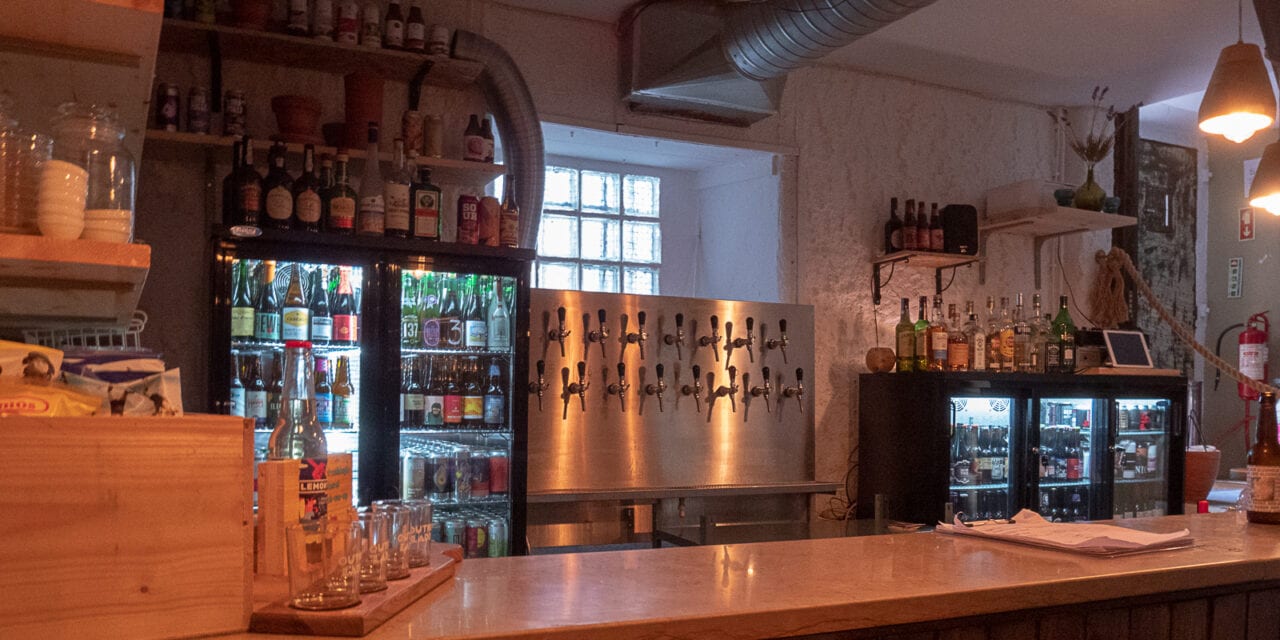 I have been so excited to talk about this place since visiting it for the second time. Outro Lado, formerly Lisbeer, is where it all began.
In October last year, Mum, Dad and I were on a family cruise of the Western Med. First stop was Porto. When in Porto, well, you've got to taste the port haven't you?
Second stop was Lisbon. As we were wandering round it was really hot – in the mid 30s. We thought it was time to find somewhere cool to sit and get a drink. Dad suggested we see if we could find a craft beer shop and I wasn't about to say: "No." Out came the 'phone and onto Google Maps. Lisbeer was the closest place.
It was a cool, it was comfortable and what a choice of craft beers! Even if it was in a rather unique location. It's easy to miss, this bar is hidden up an alleyway no wider than a couple of metres. Fortunately, just before you turn up the alleyway there's an Amsterdam Cannabis shop on the left hand corner with a Sardine shop just behind you.
Fast forward nearly a year and we were back. What was Lisbeer was now Outro Lado. The people who, when I first visited, were managing the bar now own it. They've created an incredible environment where people can relax, play board games, socialise and drink amazing beer. In fact, the place is soo good that we went back three times over three consecutive days!
As you walk in through the large wooden doors that look like they belong a castle you see the bar against the right hand wall. There are 15 taps and 3 fridges full of speciality beers from around Portugal and the rest of Europe. They are buying more fridges and plan to have one just for stouts. I love these people!!
Inside, they've repainted the walls a clean, crisp white with colourful accents coming from dark wood shelves and artwork around the room.
The furniture is well spaced all around the bar and consists of everything from dining tables and chairs, to low boy leather chairs that wouldn't look out of place in a hipster's London apartment to the ubiquitous industrial chic packing case tables and chairs. It all feels extremely comfortable and its great to just relax there. Dad even dozed off for a few minutes as Mum and I were playing Scrabble (well, he is no spring chicken anymore! He needs his beauty sleep.)
We enjoyed a wide range of beers. Including some of Polly's Brew Co (formerly Loka Polly's) latest offerings from the UK. In addition, we had a few of Northern Monk's PowerHouse Brew Series on draft. The first was their Cloudwater collaboration DIPA. At 8.2% you would expect it to pack a punch but it was superlatively smooth, with a great citrus-hop flavour and mild bitterness.
One of my personal favourites I had on draft was Luiza Brewing's Strawberry Beet Sour (3.5%) I would normally say I am not a fan of sour's but I have been converted on this trip. This locally- brewed sour was bursting with strawberry flavour. The beet added nice 'wholesome' undertones giving what would otherwise be a very sweet, overpowering sour a nice tonality to it. It was tart, but that wasn't overpowering either. I can accredit this as one of the beers that got me into sour.
Outro Lado feels like part of the community. Everyone knows the owners; its the kind of place you go with your friends and family for a great beer at the end of the day. Everyone is so friendly, they give great beer advice (they, after all, introduced me to Mean Sardine Brewing). They are just so passionate about selling good beer.
I love Portugal but its the experiences that I have with the people I meet, that make me want to keep going back. OutroLado is always going to have a very soft spot in my heart because of what it means to me.
So until next time. And save some Mean Sardine for me!!