Jopen Brewpub Haarlem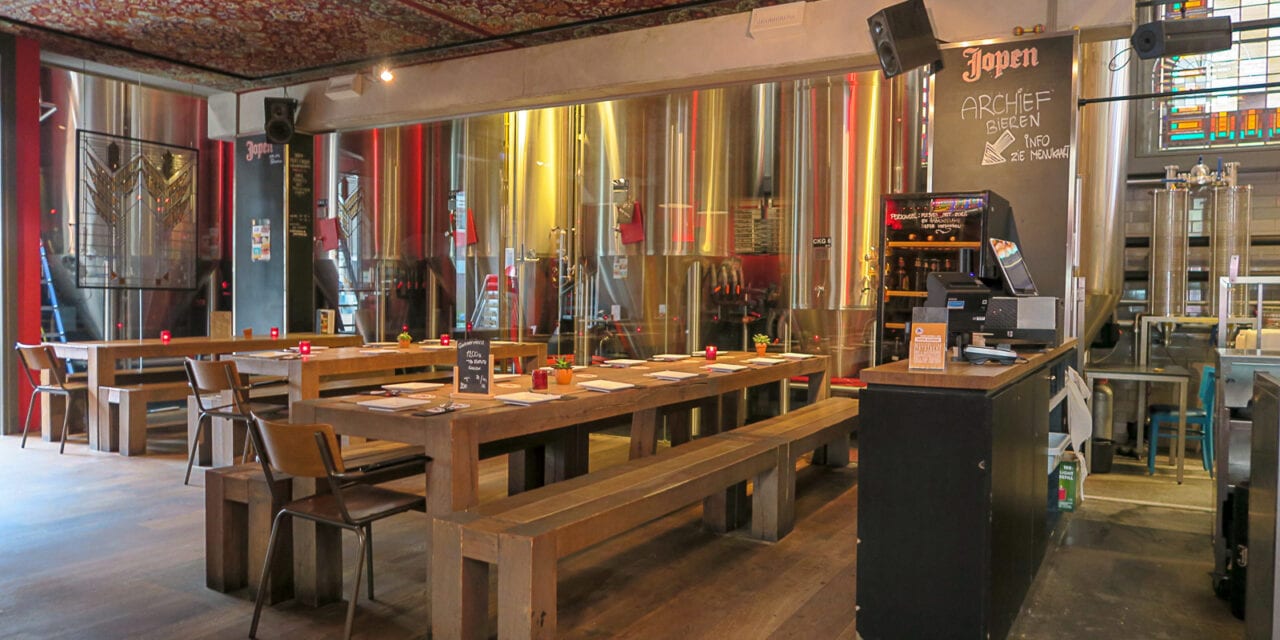 If you read my regular updates, you'll already have read about why I went back to Haarlem. A much needed weekend on the beautiful sandy beaches near Haarlem with my good friend Alina. I mean, it doesn't hurt that one of my favourite European craft breweries also happens to be based there. But that's a different story for another post.
While on the campsite, a gentleman who was camped nearby came up to and started talking to me about beer in the Netherlands. It is difficult for passers by not to notice I'm interested in beer given the "Adventures in Beer" logo all over the van.
He asked how long we were staying for and he recommended we went to 'Jopen.' He said it's about 6km away and they serve amazing beer. It was settled, next day we went to Jopen.
When you arrive, you see a beautiful red brick building on the far side of a square. Pretty discrete right? Then you notice the stained glass windows that are set high up in the building; the large arched entry-way and, once inside, the vaulted ceilings and galleys people used to sit at. You realise that this brewery and bar is built in an old church.
Personally, I thought it incredible. As you walk in, there's a 100ft long bar with clean, comfortable seating dotted around. But the main thing you notice is the huge copper kettle and mash tun behind the bar. This is, after all, a brewery.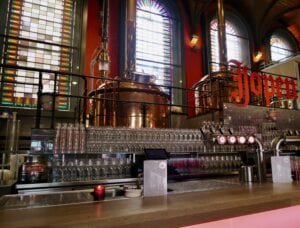 Almost all of the beer available on their 30 draft taps is their own beer, brewed on the kit that stands proudly less than 20ft away. I can honestly admit I've never seen a brewing set-up like it.
So, 30 taps and over 150 bottles. It makes for a great impression, and a delicious looking food menu to boot, be it sandwiches, salads or something a bit more hearty. Jopen had something for everyone.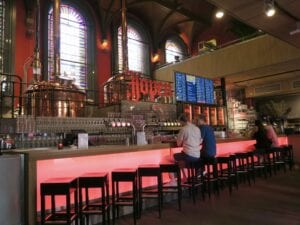 While their, I only enjoyed a single beer – mainly because we were going to the beach and so we still had a lot of riding to do. I had their own Fruit IPA at 6.2%. The beer had good body but, if I am being critical, it lacked mouthfeel. As a fruit IPA, I was expecting some punchy summer fruits notes which I just didn't feel I got. However, it had a good malt profile that could be tasted throughout the beer and nice after tones of bitterness which is exactly what I would want from an IPA.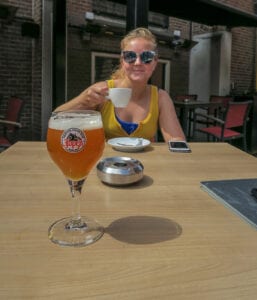 Alina stuck with coffee.
Overall it is a beautiful brewpub, but I wish I could have tried more of their beers to get a better sense of what they can achieve. Still, it'll be a chance for me to go back and refresh my taste buds.