Deya Brewing – Sunshine IPA
For those of you who don't know about Deya, educate yourself. They were founded in 2015 out of Cheltenham by a guy called Theo. Their aim was to brew soft, hoppy full bodied beers.
Currently the guys over there are pushing out what are considered to be some of Britains finest beers.
Sunshine is an IPA that was created for the perfect summer. Think beaches, BBQ's, surfing and some of your closest friends. That would summarise what this beers about but, because of lockdown all of those things have been impossible.
It's a tropical IPA at 6% abv with a full, yet light body that transports you to better days. Deya is known for their hoppy IPA's, this one is hopped with Citra, Idaho 7 and Sabro which means it packs a flavourful punch. Yum!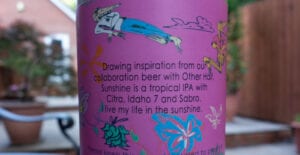 The initial aromas are of sweet, exotic fruits; mango, pineapple, and to me there was a hint of coconut. When poured into a glass it has a super opaque, cloudy body that is just full of all that good hop flavour and sediment.
The initial taste is extremely smooth (something Deya prides itself on). It doesn't have the initial hit or harshness that a lot of other IPA's do. Flavours of ripe tropical fruits greet you, with tones of pineapple, mango, peach, and grapefruit up front followed by lighter citrus notes; lemon, line, orange. Finally you have a nice hit of bitterness on the end of your mouth, its not too harsh, but leaves a lasting flavour on your tastebuds. So much so you're already craving another sip.
I will honestly say I have never had a bad Deya beer, and I don't think I will. They pride themselves on great quality, uniquely crafted beers that are different to what everyone else produces. As soon as restrictions are eased more I intend to make a trip to Deya to meet Theo and the gang and try their latest brews.